G F Smith Paper
Meeting Catherine from G F Smith Paper
Well we only went and got sponsored by G F Smith Paper, no biggie. This post was meant to go out before last fridays party theme, but i'm glad I got to see how truely beautiful the paper and colours were before blogging about them, I interviewed Catherine who currently covers the North East, North and South Yorkshire; visiting designers, printers, end users, colleges and universities, to find out a little more about working in stationary (the dream) and how we can get our hands on it.
Catherine
Things we might not know about G.F Smith Paper?
We are a paper merchants, who source some of the finest papers from all over the world and work with a variety of customers ranging from small independent businesses to huge name fashion brands. Our paper stocks are used from anything to creating traditional printed publications to being used as part of innovative design projects or as luxury packaging.
G . F Smith was brought to life in 1885 by George Fredrick Smith, a man who had a passion for paper. To this day we still hold the same passion and our head office and factory, based in Hull, is filled with skilled team members who can cut, emboss, duplex, create hand-made envelopes and so much more!
Every order placed is picked and packed by hand, people are at the centre of everything we do.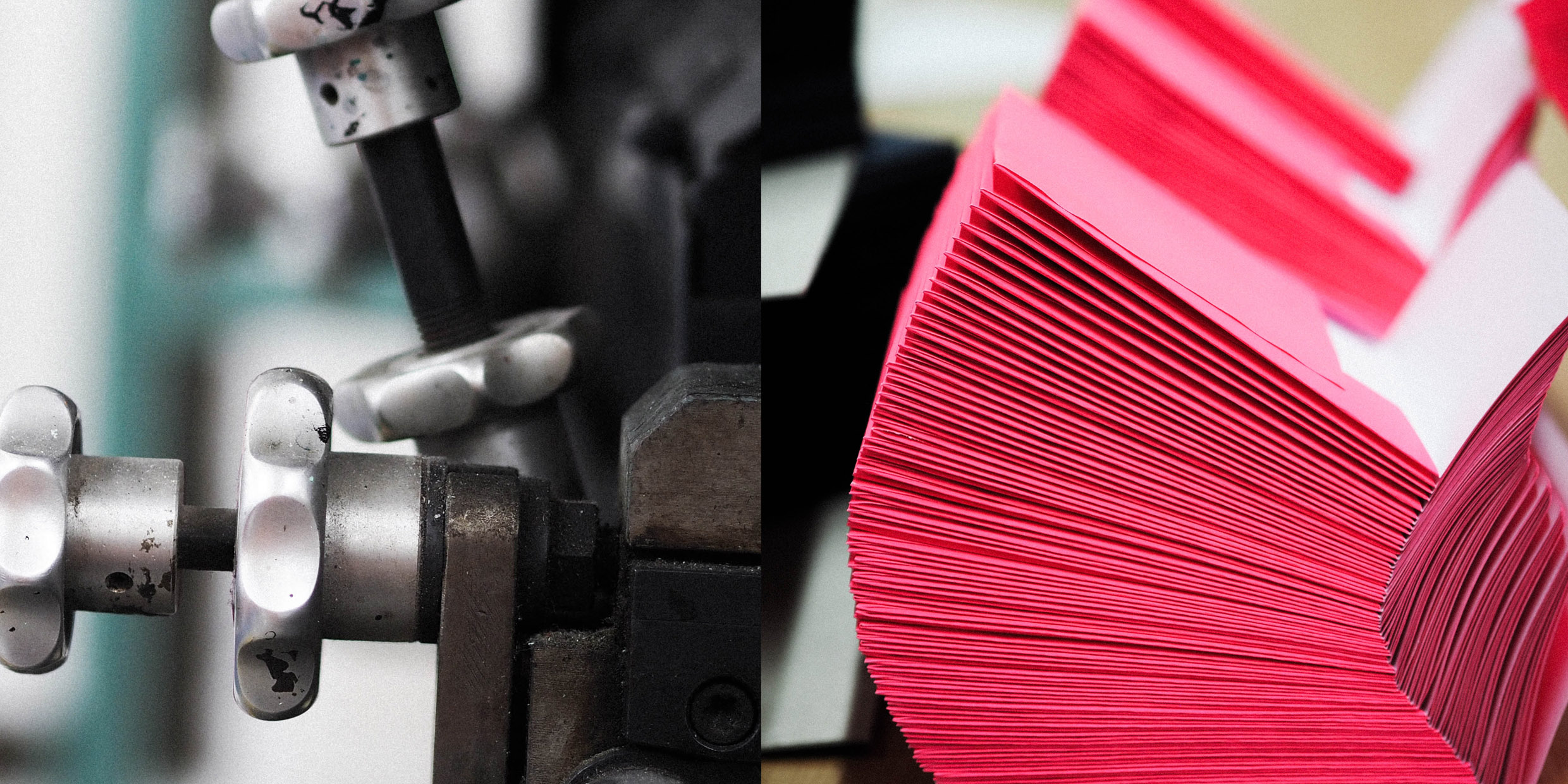 Where did your story begin with G.F Smith?
I studied Textile Surface Design at university, the course covered fashion, interiors and gift. I incorporated letterpress throughout my modules and decided to work for a London letterpress company for work experience in my second year. Everything the company printed; the envelopes, comp slips, it was all on G . F Smith stocks. When I got home I wrote a letter asking if G . F Smith would like to sponsor my final project and to my surprise they said yes! The next thing I knew I was attending a launch party in Manchester for a new range perfect for letterpress and I was asked if I'd be interested applying for a job. The rest is just history!
whats a working day look like for you?
I manage my own diary, travelling from city to city, taking out a range of swatches and printed materials. I speak to clients about current projects and their stock choices. It's great because I can recommend products and I get to see projects come to life. It's amazing how much paper can change the final outcome.
I also love being able work with students at universities, giving talks and helping students one on one. AND not to mention working with amazing events such as Endless Love Creative! Meeting great people, doing great things. I really do have the dream job.
Psst..I am also going to be covering areas of West Yorkshire too in the not so different future, watch this space!
It sounds so exciting visiting so many new places and people, is it nerve wracking?
At first it was terrifying, now I just find it exciting. I get to meet such a variety of interesting new people on a daily basis. I tried to shrug off the fear pretty early on, acting confident and as though I had all the answers, even if I didn't. If that was the case I would just confidently say "Y'know, I'm not actually sure on that one. Let me find out right away and get back to you.". I found this air of confidence really helped my work relationships.
I find I still have to adapt quickly to clients, some want me to speak quickly as they are busy in the studio, where others want me to have a cup of tea, a hobnob, and to chat over papers for hours, these are my favourite appointments.
Changing work environments are huge for me. One day I can be in someones home studio, the next I'm in a corporate business building.
I learnt to always keep a black pair of socks in the car! Once I turned up to a meeting which was in a clients house (which I was unaware of), I took off my shoes and I was wearing socks with Mr Burns from the Simpsons in pyjamas on, Oh the shame!
Paper types what is the best seller ? Great for printing cards? Good for art prints?
Each paper we stock has it's own amazing qualities, each perfect for something different. We have papers that have been made with cement dust, papers that are soft to the touch, we have a new range called Extract, which is the first of its kind and is made from recycled coffee cups!
We are probably best known for Colorplan, our flagship product, it is made in the Lake District and being a luxury coloured paper, this stock is just amazing.
Do you sell to small independents and if they wanted to start using G F Smith how would they get there hands on the lovely stuff?
We sell to everyone! G . F Smith has an area of the business called The Papersmith, where you can buy a single sheet of A4 or single envelope.
You can visit the Papersmith website or you can always contact me directly to purchase! If you have an idea for a project, would like a sample or a natter over a good coffee you can contact me on any of the details below.
We have a free sample service too so no excuses not to try something out!
All the contact details you'll ever need
Catherine Sawdon, csawdon@gfsmith.com
Buy Single Sheets (link)